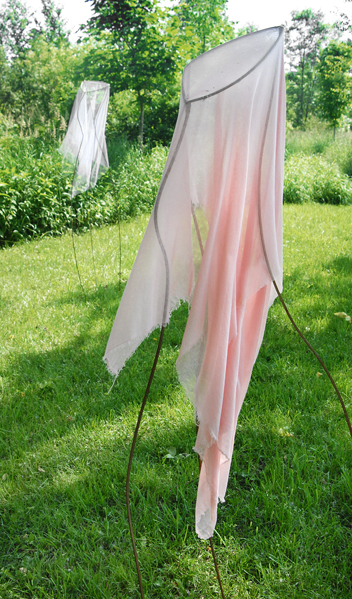 Lynne Bond is part of Exposed 2011. She lives in Charlotte, Vermont.
Three abstract, larger-than-life female figures gather together. Each references a modified "dress form" constructed of welded, square-steel rod and draped in fabric. The headless figures share common characteristics in form and structure, but each distinguishes herself as well, much as individuals in the groups they comprise.
Lynne Bond has lived in Charlotte, Vermont, for the past thirty-five years, and is a Professor of Psychology at the University of Vermont. Her work and art explore relationships between individual identity and community, including their boundaries and adaptations to one another. She is interested in what unites as well as distinguishes us as individuals and organized groups, and the tensions that arise when we try to make these determinations. Over the past ten years Lynne has studied art at the University of Vermont and at other regional studio programs. She works primarily with wood, steel, plaster, and fabric.
---
ABOUT EXPOSED
For the past twenty years, the Helen Day Art Center has hosted an outdoor public art and sculpture exhibition called Exposed in Stowe, Vermont. Exposed hosts sculptures, site-specific installations, and participatory work from twenty-three national and international artists. the 2011 edition offers a series of Thursday night events by 12 video artists, writers, performers, and musicians accompany the exhibit. This exhibition and series of events is accompanied by cell phone audio tours, QR codes, walking tour maps, walkabouts, and a catalogue of the exhibit published by Kasini House Books. The exhibition will take place July 8th to October 8th, 2011.