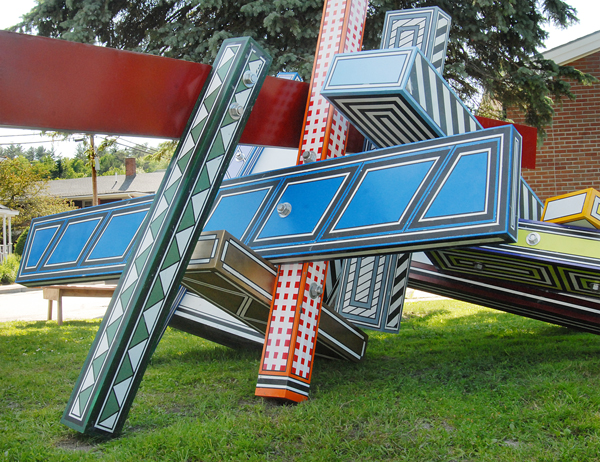 Matt Harding is part of Exposed 2011. He lives in San Francisco, California.
I typically build a sculpture from a small model. I start with collections of wood blocks, plug in my hot-glue gun, and playfully put together a form. Sometimes I grab the perfect combination of blocks and the sculpture seemingly builds itself, and other times the blocks get thrown back into the scrap bin. Later, I may snap pieces off my discarded models to fit onto new ones. The Thirteenth Piece was a Shapeshifter (image above) was made out of some of my discarded models that had been slowly edited through an uncontrived, deconstructive process. In many ways, my sculptures are vehicles specifically designed to be painted. In this piece I wanted to celebrate that deconstructive process while using colors and imagery to reference what I see as a universal visual language. Underneath the paint, this piece's form is indebted to the tradition of abstract metal sculpture. The power and ideas of these older works have become devalued due to the simplicity of their surface treatment. I want the colors and imagery of my work to allow the contemporary viewer to be reintroduced, excited and intrigued again.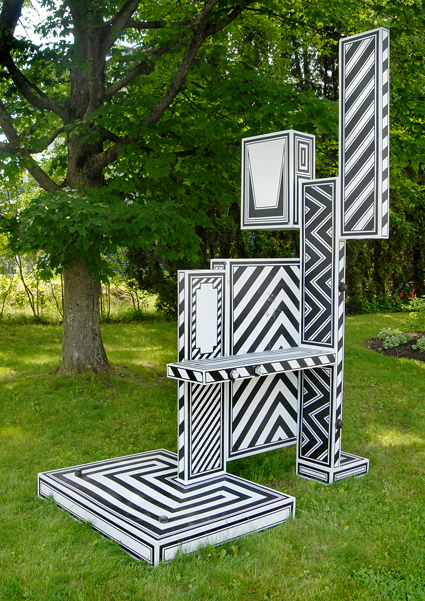 Everything in Moderation is an assembly of metal components surfaced with paint. The components are combined to create a vehicle that supports a universal graphic language that can be seen on everyday objects. The imagery as executed in black and white is free from specific color associations, highlighting the universality of lines. The goal of this piece is to entice viewers with the visual language of adornment while allowing the pure sculptural form of the steel to be understood subconsciously.
Matt Harding's motivation, work ethic and passion are based on the quest to reclaim the metalworking skills of the past. A large source of information and direction has come from the generations who spent their lives building with their hands. Harding's goal is to combine those fading values with an entirely contemporary aesthetic in work that responds to the rapid changes of modern life. Harding relies on a recognizable visual language in his surfaces to disguise and highlight the metalwork underneath, allowing viewers to see the future within the past. Harding's surface painting is inspired by printmaking and automotive painting techniques, graffiti, and signage. Harding received his BFA from Alfred University in 2002 and is currently enrolled at East Carolina University working towards his MFA.
---
ABOUT EXPOSED
For the past twenty years, the Helen Day Art Center has hosted an outdoor public art and sculpture exhibition called Exposed in Stowe, Vermont. Exposed hosts sculptures, site-specific installations, and participatory work from twenty-three national and international artists. the 2011 edition offers a series of Thursday night events by 12 video artists, writers, performers, and musicians accompany the exhibit. This exhibition and series of events is accompanied by cell phone audio tours, QR codes, walking tour maps, walkabouts, and a catalogue of the exhibit published by Kasini House Books. The exhibition will take place July 8th to October 8th, 2011.