Susan Calza is a multimedia, interdisciplinary artist living in central Vermont. She says of her work, "By making these images I face the tension between struggle and surrender. Joy and love and loss are our birthright. Magnificence and abjectness belong to all of us. As humans we possess the stunning ability to laugh and grieve in the same breath. Our moments here are delicious and fleeting. This is our imperfect beauty."
Susan Calza Gallery
138 Main Street
Montpelier 05602
(802) 224-6827
Hours: contact the artist
---
ART ON VIEW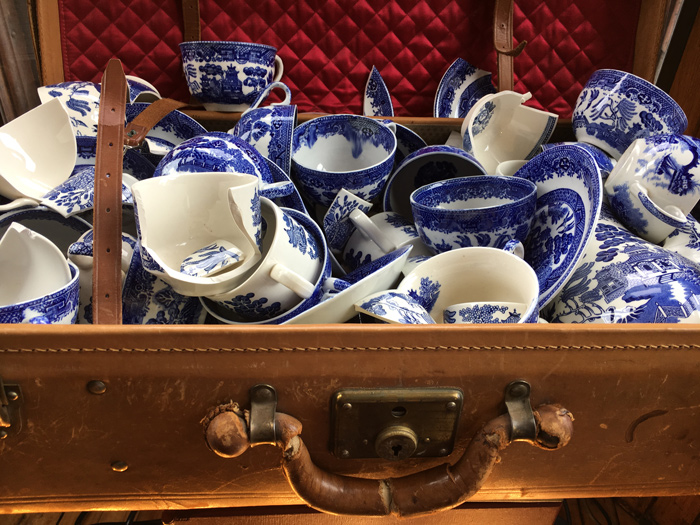 "I love it when I'm wrong. Yes, white people, immigration is about skin color."
Opening May 3, 2019, 4-8PM
This multimedia installation examines immigration, skin color and colonialism. Laced through a personal narrative, the sculpture, audio and video in the gallery explore discrimination, opportunity and skin color.
As immigration pushes up from south to north, skin colors go from dark to light.
Discrimination is administered from top to bottom.
Light skin oppresses dark skin.
North to South.
This is historically what we are up against.
(Text adapted from the artist's press materials)
Image:
this is what you came for by Susan Calza
(leather suitcase, broken Blue Willow china, crushed dollar bills)
Courtesy of the artist