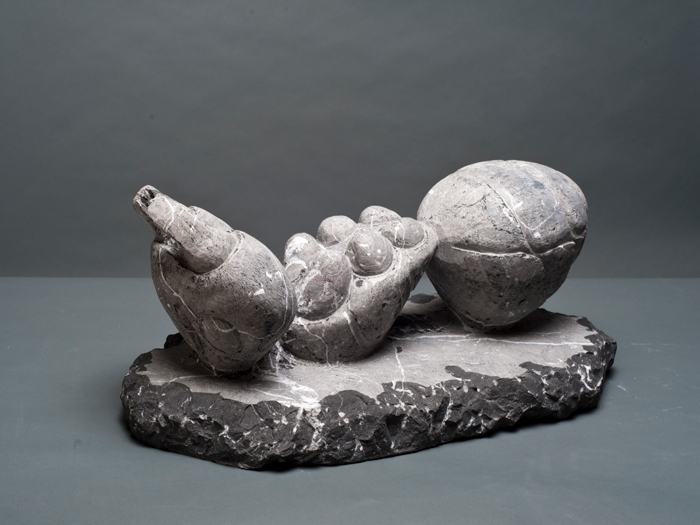 2019 VERMONT ARTIST TO WATCH
Sean Hunter Williams, Montpelier
Sean Hunter Williams appeared on my radar when The Jungle Book was unveiled in front of Phoenix Books in Rutland in November 2017. The first of a series of sculptures planned for downtown Rutland, the 3-foot marble sculpture honors the most famous story by Rudyard Kipling, written while he was living in Vermont. I was intrigued by the fact that Williams was a second-generation stone carver and wanted to learn more. Williams' father, Jerry, founded Barre Sculpture Studios in 1985 and has built an impressive portfolio of granite sculptures. Having learned from one of the masters, Sean is stepping out of his father's shadow and making a name for himself.
"Artists to Watch 2019" is a survey of contemporary Vermont artists that appeared as special feature in Vermont Art Guide #9 and in an exhibition at the Vermont Arts Council, January 7-February 28, 2019. ABOUT THE PROJECT | GET THE MAGAZINE

In addition to The Jungle Book, Williams has completed and is waiting to place Culmination. Commissioned by the Barre City Council in 2015, the installation site was recently finalized by the Council as part of a larger plan to convert Pearl Street into a pedestrian plaza. "Culmination was meant to be a break from my more representational commission work I do through my dad's shop and into something more fantasy-like and architectural," said Williams. "I wanted to represent the people of Barre without using the figure."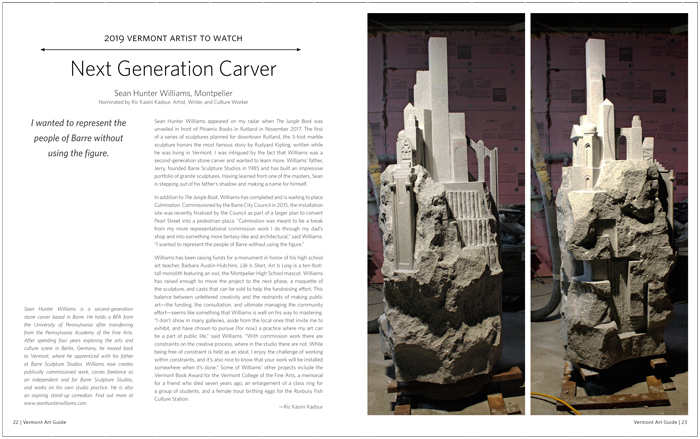 Williams has been raising funds for a monument in honor of his high school art teacher, Barbara Austin-Hutchins. Life Is Short, Art Is Long is a ten-foot-tall monolith featuring an owl, the Montpelier High School mascot. Williams has raised enough to move the project to the next phase, a maquette of the sculpture, and casts that can be sold to help the fundraising effort. This balance between unfettered creativity and the restraints of making public art—the funding, the consultation, and ultimate managing the community effort—seems like something that Williams is well on his way to mastering. "I don't show in many galleries, aside from the local ones that invite me to exhibit, and have chosen to pursue (for now) a practice where my art can be a part of public life," said Williams. "With commission work there are constraints on the creative process, where in the studio there are not. While being free of constraint is held as an ideal, I enjoy the challenge of working within constraints, and it's also nice to know that your work will be installed somewhere when it's done." Some of Williams' other projects include the Vermont Book Award for the Vermont College of the Fine Arts, a memorial for a friend who died seven years ago, an enlargement of a class ring for a group of students, and a female trout birthing eggs for the Roxbury Fish Culture Station. —Ric Kasini Kadour
This Artist to Watch 2019 is a special feature in Vermont Art Guide #9. Vermont Art Guide is a full color, quarterly, printed magazine about contemporary art in Vermont. Our goal is to connect the entire state's art community by sharing information about exhibitions and events; present a picture of Vermont art and art in Vermont, to tell our story; and to build an audience for Vermont art inside the state and out. We hope you will join us and SUBSCRIBE TODAY.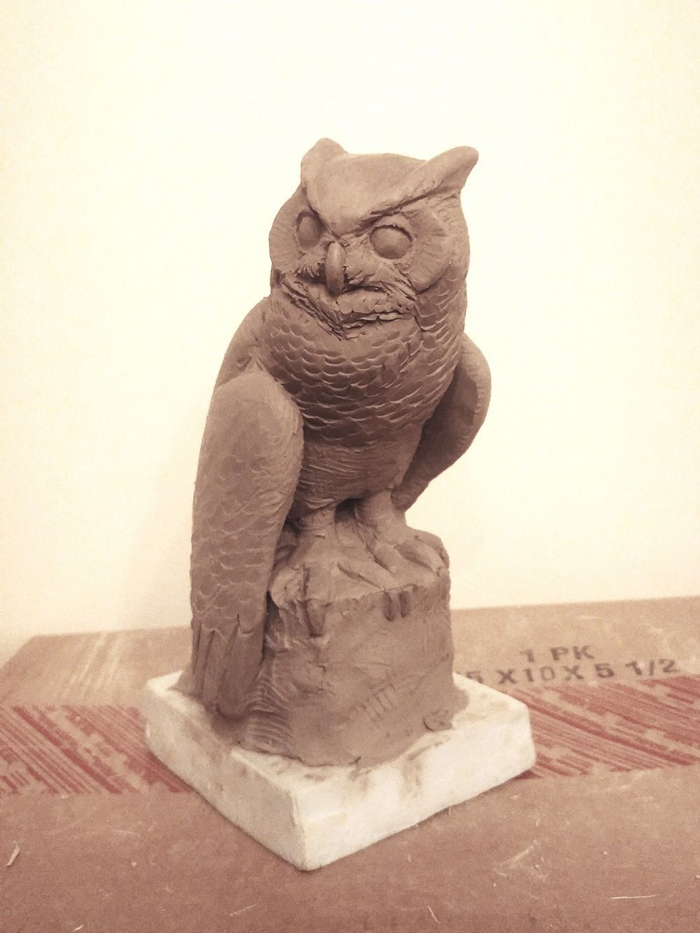 About the Artist
Sean Hunter Williams is a second-generation stone carver based in Barre. He holds a BFA from the University of Pennsylvania after transferring from the Pennsylvania Academy of the Fine Arts. After spending four years exploring the arts and culture scene in Berlin, Germany, he moved back to Vermont, where he apprenticed with his father at Barre Sculpture Studios. Williams now creates publicly commissioned work, carves freelance as an independent and for Barre Sculpture Studios, and works on his own studio practice. He is also an aspiring stand-up comedian. Find out more at www.seanhunterwilliams.com.
About the Curator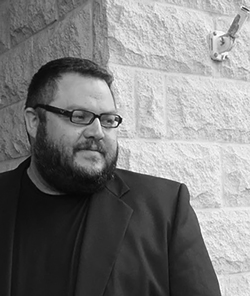 Ric Kasini Kadour
Artist, Writer, & Culture Worker
"Art for me is a magical, mystical experience, packed with potential to transform humanity. I look for art that can tell a story, than can be a bridge between the viewer and the ideas the artist is engaged with." Kadour is the Editor of Vermont Art Guide and Kolaj Magazine and the Curator of Contemporary Art at the Rokeby Museum. In 2019, he is also curating an exhibition exploring contemporary regionalism at the Southern Vermont Arts Center. Learn more at www.rickasinikadour.com.
Images (top to bottom) by Sean Hunter Williams:
Death of Worker
Wild Boar
Owl