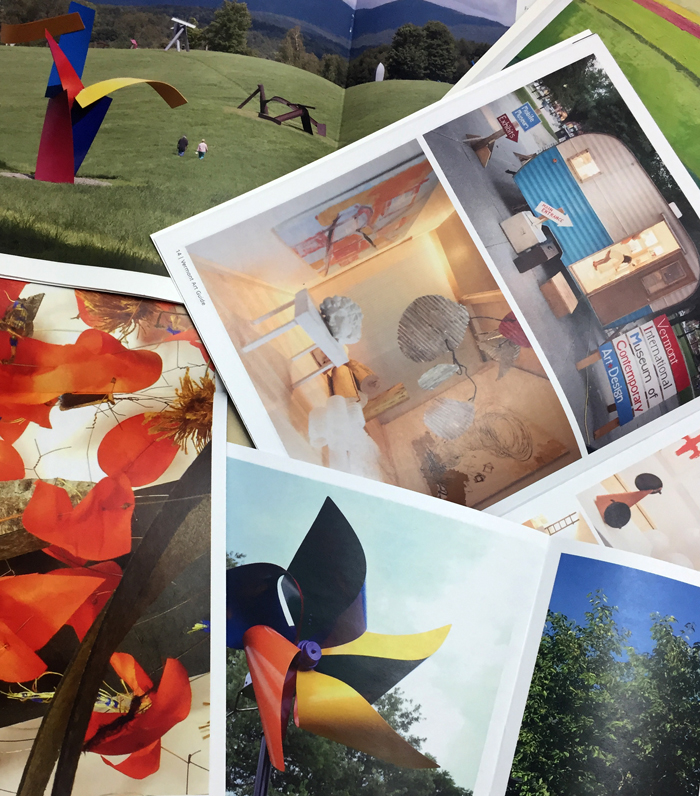 ART EVENT
Vermont Art Guide Meet & Greet
& Artist to Watch 2018, Part 1 Exhibition Opening
at the Vermont Arts Council Spotlight Gallery
in Montpelier
Friday, March 9th, 5-7PM
Meet the publishers of the Vermont Art Guide, the state's magazine of contemporary art, for a Meet & Greet at the Vermont Arts Council during the Opening Reception for the exhibition, "Artists to Watch, Part 1".
Each issue of Vermont Art Guide has over a hundred places to see art around the state. The full-color, printed magazine has artist and venue profiles as well as articles and news about Vermont Art. Our goal is to document and share the state's incredible art scene.
We have three goals: 1) To connect the entire state's art community by sharing information about exhibitions and events. 2) To present a picture of Vermont art and art in Vermont, to tell our story. 3) To build an audience for Vermont art inside the state and out. We hope you will join us by subscribing to the print edition today!
Vermont Art Guide Publisher and Editor Ric Kasini Kadour will make very brief remarks at 6:30PM. Copies of the current issue of the printed magazine will be on hand along with some back issues.
ABOUT THE EXHIBITION
Artists to Watch 2018, Part 1
March and April 2018
Vermont Arts Council Spotlight Gallery
Artists to Watch 2018 is a survey of contemporary Vermont art in two exhibitions and in print. In late 2017, curator Ric Kasini Kadour, editor and publisher of Vermont Art Guide, asked six art professionals to identify artists they feel are on the verge of doing great things. Multidisciplinary artist and marketing consultant Mary Admasian; independent curators Kelly Holt and Stephanie Walker; Brattleboro Museum & Art Center Director Danny Lichtenfeld; and Northern Daughters gallerists Sophie Pickens and Justine Jackson identified twenty-five artists from across the state.
"One of the mandates of the Vermont Art Guide is to direct attention to those artists doing remarkable work. We thought it would be interesting to canvass a selection of guest curators and ask them, 'What artists are on your radar?'" said Kadour. "We are pleased to present this survey of noteworthy artists. And while it is by no means complete, we think it is a great way to kick off a year of looking at and seeking out Vermont art. This collection of artists demonstrates the diversity of practice and approach in the state."
Work by Julia Jensen (Putney), Jason Galligan Baldwin (Montpelier), Paul Bowen (Williamsville), Bonnie Baird (Chittenden), Sherri Rigby (Ferrisburgh), Elizabeth Nelson (Glover), Janet Van Fleet (Cabot), Pamela Smith (Bristol), Stephanie Kossmann (Fairfield), Hope Burgoyne (Waterbury), and Chris Curtis (Stowe)
---
INFORMATION
Spotlight Gallery
Vermont Arts Council
136 State Street
Montpelier 05602
(802) 828-3291
Hours:
Monday-Friday, 8:30AM-4:30PM