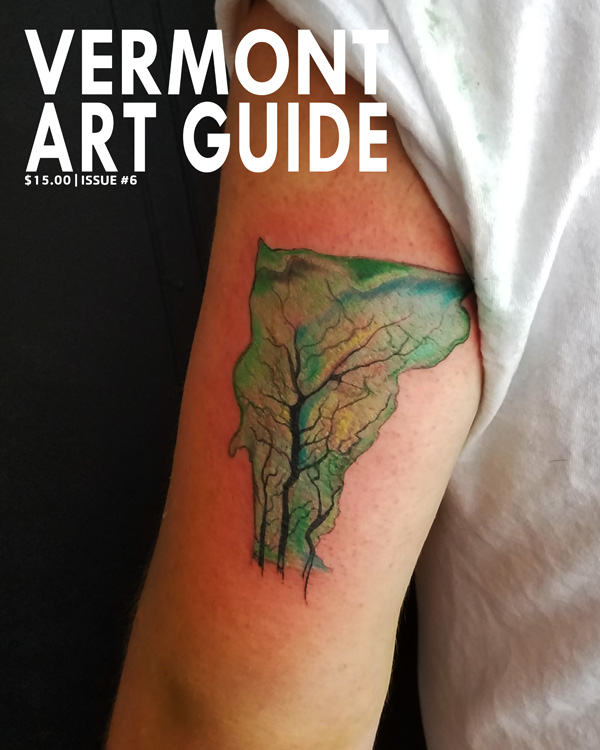 In This Issue
A tattoo by Northeast Kingdom artist Katlin Parenteau graces the cover of Vermont Art Guide #6. Born and raised in Vermont, you may have seen Parenteau live painting to bands around the Kingdom.
We offer a round up of new art galleries in Rutland, Stowe, and Bellows Falls: a sign that Vermont's art scene continues to grow.
James Peterson was inspired by the magical ice caves of Kamchatka in Siberia to make his luminous Dreamcatcher installation at Spruce Peak and Denise Beaudet was inspired by women activists from around the world. We report on her life-size portraits at Gallery in the Woods in Brattleboro.
We report on a group of people working to create the Darshana Bolt Memorial Sculpture and Sketching Garden on Burlington's Waterfront. Ryan Mays' Mouse sculpture is inspiring changes at Kellogg-Hubbard Library in Montpelier. And at the Great Hall in Springfield, an art exhibition reflects on our National Parks and wild lands.
The heart of the issue is a special two-part feature, Artists to Watch. Part of Vermont Art Guide's mission is to showcase Vermont artists. We recruited five guest curators working in various corners of the state and asked them to tell us what artists they are watching in the coming year. Part one appears in this issue. Part two will appear in the next one. A parallel exhibition takes place at the Vermont Arts Council Spotlight Gallery in Montpelier starting in March.
SPECIAL FEATURE ARTISTS TO WATCH IN THIS ISSUE
Who's Watching Who
Lead Curator: Ric Kasini Kadour, Vermont Art Guide Editor
The Guest Curators: Kelly Holt | Danny Lichtenfeld | Sophie Pickens & Justine Jackson | Stephanie Walker | Mary Admasian
Curiosities & Activism: Janet Van Fleet
Entering a Timeless Realm, Vibrant Yet Restrained Palette: Julia Jensen
Dialogue Through Image Making: Renee Greenlee
Light and Airy Abstract Painting: Caroline Tavelli-Abar
Beautiful Mess of Cultures & Epic Landscapes: Vanessa Compton
Folk Color as Vibrant as the Stories: Pamela Smith
Dialogue and Contemplation: Chris Curtis
A Thousand Remembered Moments: Hannah Morris
Childhood, Self, and Aging: Jason Galligan-Baldwin
Meditative Geometric Abstraction and Color: Sherri Rigby
I Ching-Inspired Symbolic Landscapes: Elizabeth Nelson
The Alchemy and Gestalt of a Ninety-year-old Environmental Artist: Pat Musick
Talismanic Energy Beyond Formal Beauty: Paul Bowen
In Vermont Art Guide #7, we will feature Jean Cherouny | Robert Gold | Erika Senft Miller | Angelo Arnold | Sam Talbot-Kelly | Bonnie Baird | Rose Umerlik | Hope Burgoyne | Stephanie Kossmann | August Burns | Rodrigo Nava | Anthill Collective. Subscribe to not miss the issue!
Where to See Art is our curated list of 190 places to see art around the state. We pay particular attention to: Milton Art Center & Gallery | BCA Center | Middlebury College Museum of Art | Mike Mayone Studio | Vermont Artisan Designs | stART Space | The Gallery at Central Vermont Medical Center | BigTown Gallery | River Arts | ArtisTree Community Arts Center & Gallery | Two Rivers Printmaking Studio | Brattleboro Museum & Art Center
and a Vermont Art Guide Artist Directory.
SPECIAL NOTE: Vermont Art Guide is a quarterly, printed magazine about contemporary art in Vermont. We have three goals: 1) To connect the entire state's art community by sharing information about exhibitions and events. 2) To present a picture of Vermont art and art in Vermont, to tell our story. 3) To build an audience for Vermont art inside the state and out. We hope you will join us by subscribing to the print edition today!