The museum features hundreds of lifelike wooden birds in natural habitat dioramas, most created by Vermont woodcarver Bob Spear (1920-2014). Forty acres of publicly accessible trails allow for bird watching. Programs, workshops, and events are scheduled throughout the season.
Birds of Vermont Museum
900 Sherman Hollow Road
Huntington 05462
(802) 434-2167
Hours:
Daily (May-October), 10AM-4PM
---
ART ON VIEW
Pollinate This!
May 1-October 31, 2019
"Pollinate This!" presents art that inspires seeds of conservation. The museum writes, "We wander in gardens, foster habitats, explore ecosystems. Life buzzes, entwines, fosters, interacts—one species to another and another and another. Birds and insects and plants thrive together.
Can we pause, notice? Can we let the outside in, become as intimately connected to the world around as a pollinated plant is to its pollinators?
How can art explore, examine, and express pollination—metaphorical and otherwise?"
Artists and photographers include: Andrew Keim, BJ Gray, Bryan Richheimer, Carol McDowell, Claudette Eaton, Dave Marcotte, Deana Allgaier, Deb Sharpe, Heidi Lyon, Isla Lothrop, Janet Labelle, Jerry Lasky, Judy Welna, Juniper and Prudence Murray, Katherine Guttman, Katherine Moran, Katrina Martin, Kimberly Sultze and Jon Hyde, Kristi Wilkinson, Laurie Bepler, Lori Hinrichsen, Louanne Nielsen, Mariposa Ottens, Miriam Adams, Monique Dewyea, Nancy Stone, Paula Kelley, Rebecca Garavan, Rebecca Rosenthal, Rich Kelley, Tina Valentinetti, and Trine Wilson.
(text adapted from the museum's press materials)
Image: hortus apiarium by Katherine Guttman
Courtesy of the artist and Birds of Vermont Museum, Huntington
---
PREVIOUS EXHIBITIONS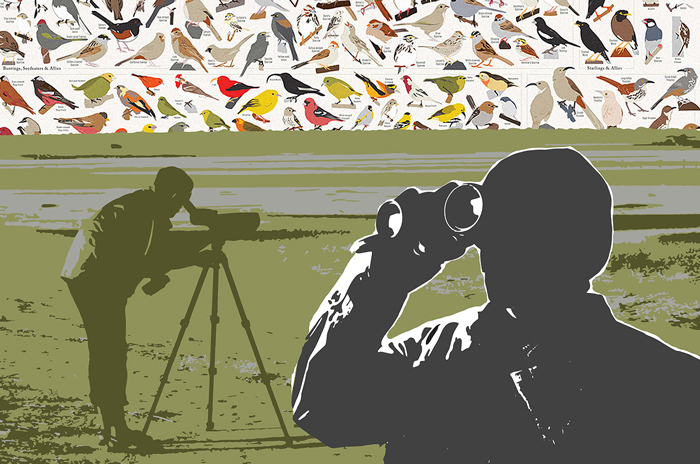 Common Ground
May 1-October 31, 2018
Artist Reception: Thursday, July 19, 2018, 3PM
Birds link us. Birds and humans need the same things: food, water, air, places to live. We have sometimes used laws to protect those needs we have in common. In 1918, the US Congress put into place the Migratory Bird Treaty Act (16 U.S.C. 703-712)—one of the first US laws prescribing protections of migratory birds. Since then, we've asked new questions, discovered new ramifications, and come to new understandings about what conservation entails. The Act and the Conventions that come from it connect the United States to Canada, Mexico, Russian, and Japan. To be successful in conserving and protecting bird species, people must work together across geographic, political, socioeconomic, and ecological boundaries. We need to find—or create—common ground. What does that look like?
In art, perhaps it looks like homage to the snowy egret, whose plumes were so desirable for ladies' hats that the species itself was threatened. It could be a human in dancing color, accompanied by migratory songbirds. It might be a Duck Stamp-style painting or a carving linking imagination to bird flight, grounded in Vermont wood. Or could it be the way migration paths stitch communities and continents together?
The Act's meaning is carried in these and other works: over 40 of them. Each piece in the show speaks in some way to themes of commonality, conservation, migration, habitat, and protection. Many touch on coordination among peoples, species, places, and time. In choosing works for this show, we strove to integrate diversity of work into a cohesive whole.
In the end, we hope to connect you, the exhibit visitor, to the Why that drove, and still drives, the purpose of the Migratory Bird Treaty Act.
(text adapted from the venue's press materials)
Image:
Loss of Habitat
by Aron Martineau
collage
Courtesy of Birds of Vermont Museum, Huntington
---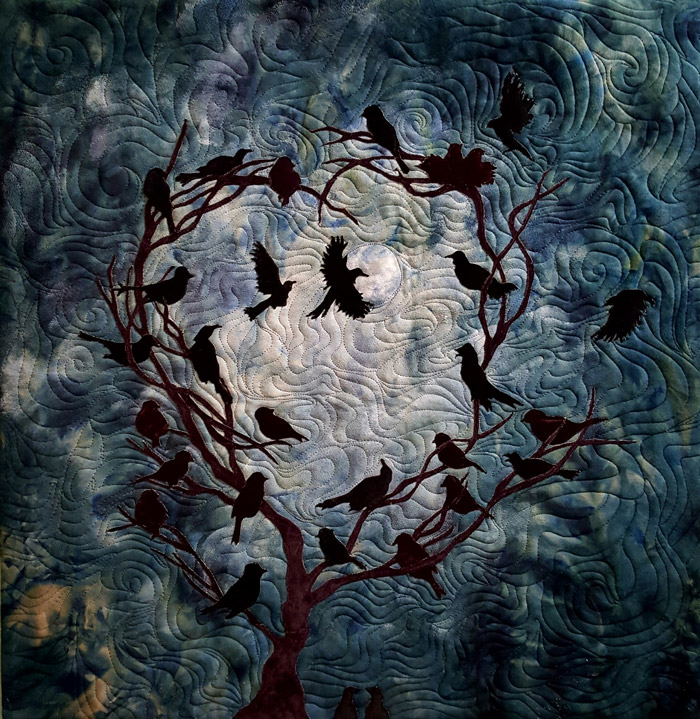 Birding by the Numbers: Integrating a Sense of Number with Artistic Expression
May 1–October 31, 2017
At the Birds of Vermont Museum, they like to say we are "where natural history meets art." But what would ornithology be without math? What new facts and figures about feathered phenomena can we most appreciate? Inspired by these questions (and more), the museum sought works that might integrate that sense of number into art, bridging the real and imaginary, with birds silly and significant.
Twenty-three artists, some new, some returning, some young, some old, contributed twenty-four works to this show. The museum selected artworks that provide a variety of meaning, from simple counts to verbal puns, from delicate hints to meaningful data. No restrictions were placed on media, so the museum was rewarded with paintings, prints, quilts, collages, drawings, photography, sculpture, digital manipulations, and further combinations. The whole, though complex, works together.
Artists on display: Brian Machanic, Carol MacDonald, Carol McDowell, Carol Talmage, Claudette Eaton, Colin Talmage, Elizabeth Spinney, Jackie Mangione, Judy Dow, Katherine Guttman, Katherine Moran, Kerry and Linda Hurd, Kimberly Sultze and Jon Hyde, Kir Talmage, Linda Di Sante, Meg Walker, Nancy Stone, Nancy Tomczak, Rachel Grossman, Stephanie Leap, and Tina Valentinetti.
(text adapted from the venue's press materials)
Image:
30 Years of Birding Love
by Carol McDowell
wall quilt
Courtesy of Birds of Vermont Museum, Huntington