This Vermont artisans cooperative, which began its 21st year in September 2018, features crafts and fine art by more than 100 artisans, their Backroom Gallery exhibits change every six weeks.
Northeast Kingdom Artisans Guild
Back Room Gallery
Suite 2
430 Railroad Street
Saint Johnsbury 05819
(802) 748-0158
Hours:
Monday-Saturday, 10:30AM-5:30PM
---
ART ON VIEW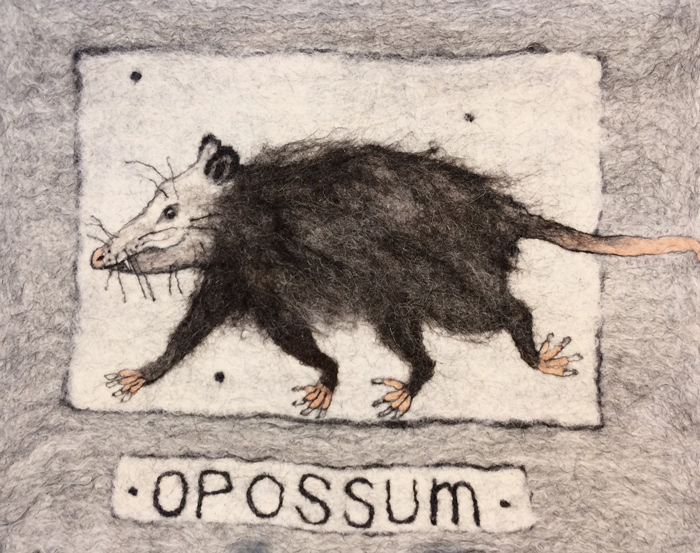 Fiber: No Boundaries
April 17-June 1, 2019
These three Vermont craftswomen have taken the traditional utilitarian crafts of blanket, rug and wall cover beyond practical status, into the realm of art. Beginning with cloth, hands, needle and thread, these crafts have altered the aesthetic appeal into a deeper context, of emotion, enriching the viewer with fresh ideas and imagined ideals.
Judy B. Dales has influenced fellow quilters around the world, through exhibitions in solo and group shows, instructional books, and inclusion in art books, along with workshops and teaching sessions. Dales writes a line in her artist statement that is echoed by the other two artists about their work: "The techniques and materials I have chosen to work with influence, and sometimes restrict, my artistic choices. I consider these limitations a challenge to both my creativity and skill…These challenges ensure that each image is distilled to its purest form, stylized by still recognizable."
Delsie Hoyt has shown her rugs in folklife and crafts exhibitions, as well as in workshops as an instructor throughout the country. Hoyt writes, "I was inspired by the complex artistry my Great-Grandmother, Annette 'Nettie' Nelson, drew out of this simple craft over a century ago. Nettie's unique, braided 'pinwheel' was a major break with rug making conventions of her time." Hoyt continues this daring step beyond the ordinary in her unique designs stepping beyond the margins we expect in braiding. She has also "stepped off the floor" into braiding wool into hats, bowls, table decor & boxes.
Amanda Weisenfeld calls herself a "traditional rolling, pounding, soapy water hand felter." She has turned what started as functional felt art into a story telling genre, featuring gnomes, ravens, foxes, porcupines, and all kinds of creatures including the Scandinavian Tomten, playing among the animals. She also transforms these fantasies into fanciful illuminated lamps, storybook wall hangings, dolls balls and cards. Weisenfeld states, "I started out as biology major, morphed into Environmental studies, and ended up finding my forever home in felt art."
(text adapted from the venue's press materials)
Image: Opossum on the Run by Amanda Weisenfeld
---
PREVIOUS EXHIBITIONS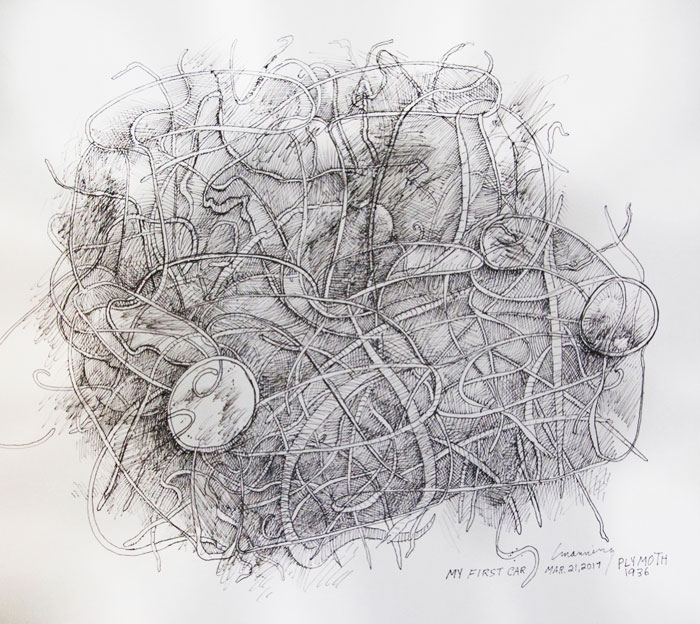 "12×12": Robert Manning
April 20-June 2, 2018
Bob Manning of Danville is a well-known artist of works inspired by Neolithic stone monuments of Ireland and England, both old and new. This exhibition is a series of 35 works, all formatted in a square 12″ x 12″. The works embrace stories from the artist's life, from a 1935 swim with his family on the Connecticut seashore to the seashore of the island nation of Ireland—and back again, and again.
The works are a varied trip down memory lane, sometimes partnering Rembrandt with a tennis champion, adding a humorous intimate touch to the intricate drawings and paintings. The central image of the stool where Bob sat as his hand and imagination created these works, is a depiction of wonders, parts of life, so rich that sometimes those not captured fall aside, to the floor, but, oh, what is drawn and shared, so poignantly, are captured in one square foot.
Come and take a little journey, through a timeless tale, begun in the rocks of creation and the fields and shores of mankind, expressed with beauty in the art of Bob Manning.
(text adapted from the venue's press materials)
Image
My First Car
by Bob Manning
12″x12″
Courtesy of the artist
---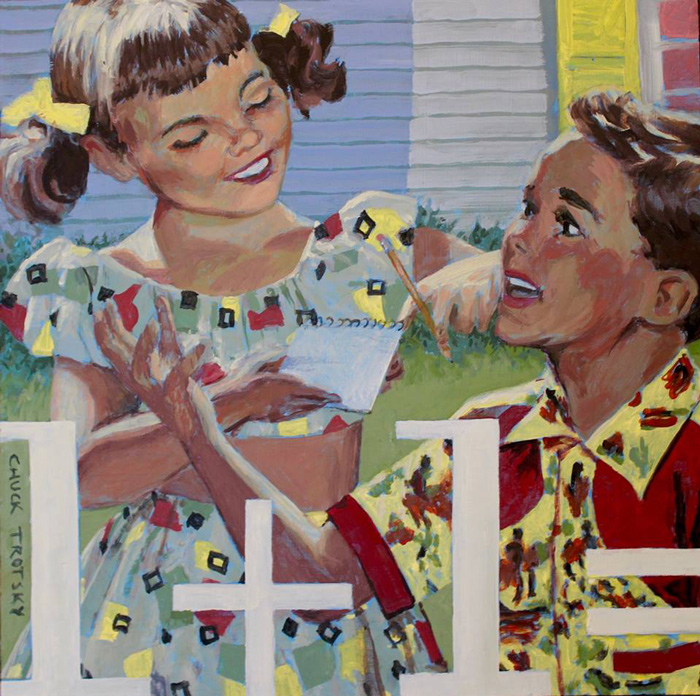 "The Enigmatic Art of Charles Trotsky"
January 12-February 24, 2018
Rumor has it that Charles Trotsky is not a real person, yet he makes real art. Like the mask that Bruce Wayne dons, or Zorro's mask, Trotsky is an invented persona that frees a respected realist painter to explore different subjects, styles and media.
His painting, #GHOSTDANCE*, was featured in Art New England, and was featured in the Northeast Kingdom Artisans Guild group show "Seen/UnSeen". Trotsky's works have been displayed at Parker Pie Company, the Miller's Thumb Gallery and Highland Center for the Arts.
This collection of recent acrylic on panels is a study of gender in popular culture. Familiar images are utilized as a language, and then transformed by altered context, color and composition. Trotsky has also been experimenting with printmaking and will be selling original prints on paper for the first time.
Also on display for the first time at the guild, to accompany this exhibit, is uniquely crafted furniture by Ben Barnes.
(text adapted from the venue's press materials)
Image
1 + 1
by Chuck Trotsky
---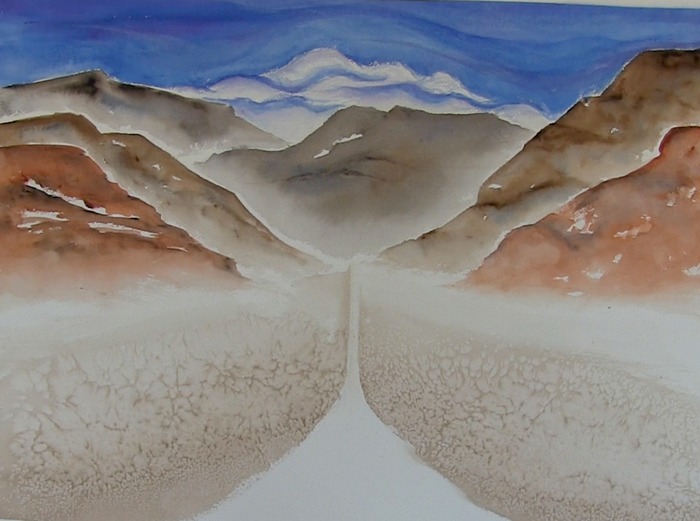 Jenny Green: "Arid Lands"
August 12-September 23, 2017
Jenny Green says about the work:
Two new events in my life led to the work in this exhibit. The first was is seeing mountains in a new way. Mountains have drawn me since my earliest memory. At three, I recall being shoved and pulled up the straight side of Mt. Hor at Willoughby Lake. In my teens, I hiked and rode the Sierras and throughout my adult life have sought and hung out in whatever mountains were available at home and in my travels.
Then, in my mid-seventies, I discovered the mountains of Oman and Jordan and fell in honest-to-goodness love. For the first time I was seeing the actual structure, the bones, of the mountains, unclothed in the rich greens or white snows of mountains blessed with hydration. These desert mountains—arid land mountains—are stripped to their rocky essentials. The crags and crevasses, the colors and textures, so bold against the sky of blue, from blue the depth of midnight to the palest tint, turning pink and yellow and purple at sunrise or sunset.
The second event was discovering John McPhee's books on the geology of the United States, deepening my love affair with mountains. Literally, I dug into layers and layers constructing the mountains and the relatively flat lands they rose out of. This was a revelatory discovery of the why and wherefore and when (so much when!) the surface of the earth came to be.
Inspired by these discoveries, I made pilgrimages to Death Valley in California and Big Bend in Texas, and was flooded with memories of earlier trips to the Southwest. All these places, feelings and ideas gave birth to a very personal way to see and feel, to paint and share my fascination of these arid lands.
About Jenny Green:
Half way through my life, my family landed on an old abandoned farm in Danville. Time passed, four children grew and moved on, assorted animals came and went, and I'm still here. After I retired 12 years ago, I starting playing with watercolors, with help from friends in the Monday Painters group and my multi-talented family. It has been a wonderfully rewarding journey of discovery–about the medium and about myself–and about the power of images to speak of and to the deeper spaces within us all.
(text adapted from the venue's press materials)
Image
Road I
by Jenny Green
22.5″x30″
watercolor on Arches paper
Courtesy of the artist and Northeast Kingdom Artisans Guild
---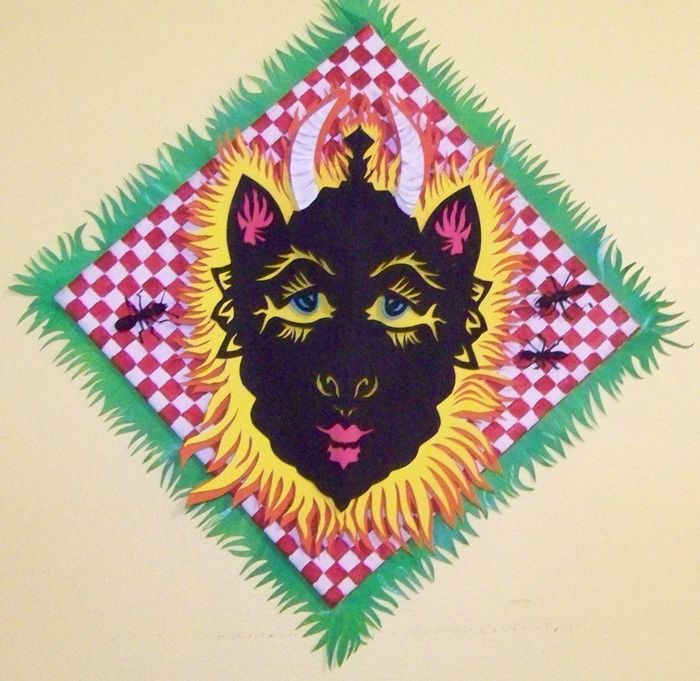 Seen & Unseen
April 28-June 13, 2017
Artist Reception: Saturday, May 6, 2017, 4-6PM
Art often conveys a message that is not at first evident. The image may seem obvious, but a disturbance catches your eye. Something seems out of reach, invisible, maybe. Concentrating on the image, you may suddenly see a figure hiding or an anomaly in the structure, a bit out of sorts with what you first thought. The mystery deepens, and may come into focus. The title may give a clue. Unseen becomes seen, or titillates the mind, haunting like the image or idea concealed. Come and view these works, and take your mind on a voyage to see a sea of imagination.
(text adapted from the venue's press materials)
Image
Lil' Miss Paula's Picnic Daemon
by James Frase-White
acrylic on canvas and cut canvas paper
2016
Courtesy of the artist and Northeast Kingdom Artisans Guild
---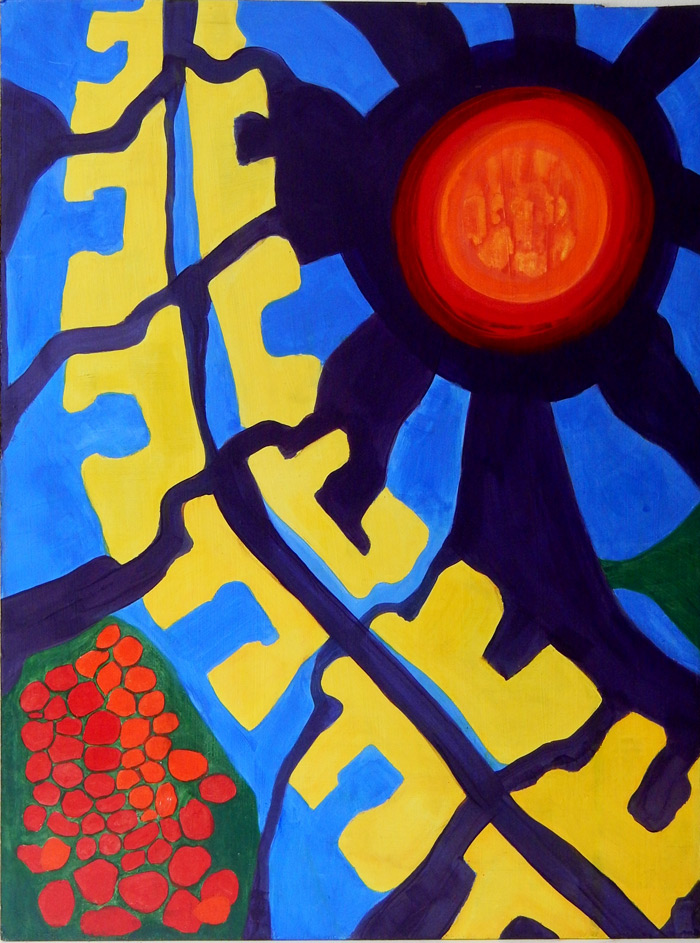 Kelly Doyle: Improbable Surfaces
March 4-April 22, 2017
"Improbable Surfaces" is a show about transforming existing materials, often discarded from work sites, into works of art. A pair of jeans becomes a burning house. Sixty-year-old panel board becomes a surface for Spine. This is recycling with creativity and Doyle excels in taking apart old and used things and making them into something new.
(text adapted from the venue's press materials)
Image
Spine
by Kelly Doyle
mixed media on wood panel
2016
Courtesy of the artist and Northeast Kingdom Artisans Guild
---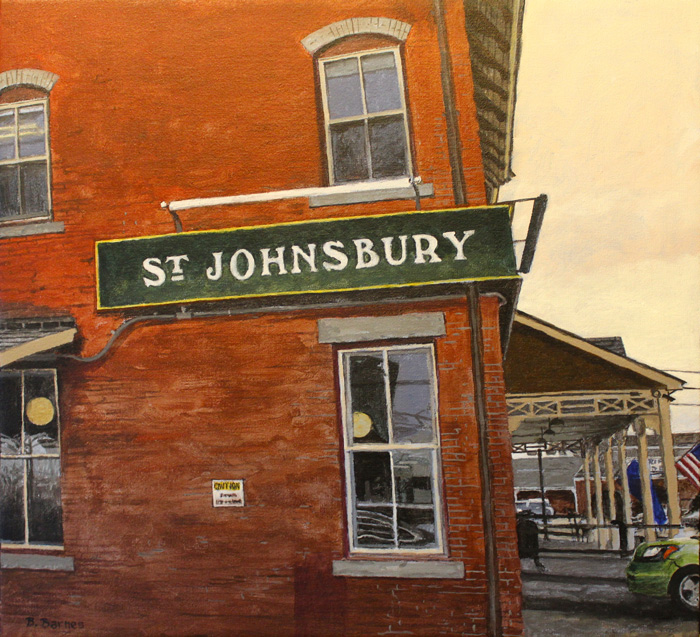 Benjamin Barnes: "New Turf, Old Haunts"
September 30-November 19, 2016
The Northeast Kingdom Artisans Guild presents "New Turf, Old Haunts", a collection of recent paintings by Ben Barnes.
Describing his work and motivation, Barnes wrote, "While planning my move to Saint Johnsbury, I became eager and excited to explore this new old place, and to set my brush to depicting it, in all its nuance and complexity. I was lucky enough to take on an abandoned property, right in the middle of town, and during a chilly February, I moved my family here, and began my new painting project as soon as the house was livable. With my camera hanging by its strap, I take half aimless walks around this little city: its Victorian neighborhoods, its railyards, the overgrown yards of old factories and warehouses, the rivers and dams, its outlying farms. The connection was instantaneous. There is so much to see within walking distance, that I feel I could never see it all. I choose my subjects based both on their visual interest, and their historical or personal meaning.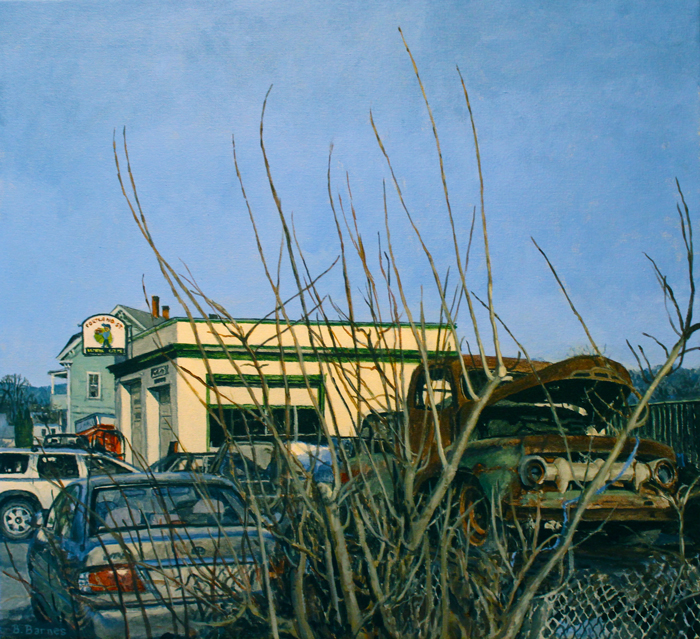 I am shy of nostalgia, and so prefer images that admit to their era. I enjoy it when the viewer can feel both the past and the present. I cherish the mark of the maker, long forgotten, but tend not to edit out the telltale signs of our modern day: the powerlines, the cars, the updated construction materials. That said, I have also realized that while my subject may seem current to me today, the speed with which we change our surroundings, the landscape around us, is exponential. And so I have developed further reverence for the details of the particular place, knowing that what seems commonplace to us now, will only a short time into the future, seem unmistakably rooted in our past. It may jog our memory, and hopefully help us appreciate our memories, as well as the ephemeral nature of the present."
(text from the artist's press materials)
Image (top):
Welcome Center
by Benjamin Barnes
oil on canvas
Image (center):
Portland Street Hedgerow
by Benjamin Barnes
oil on canvas
---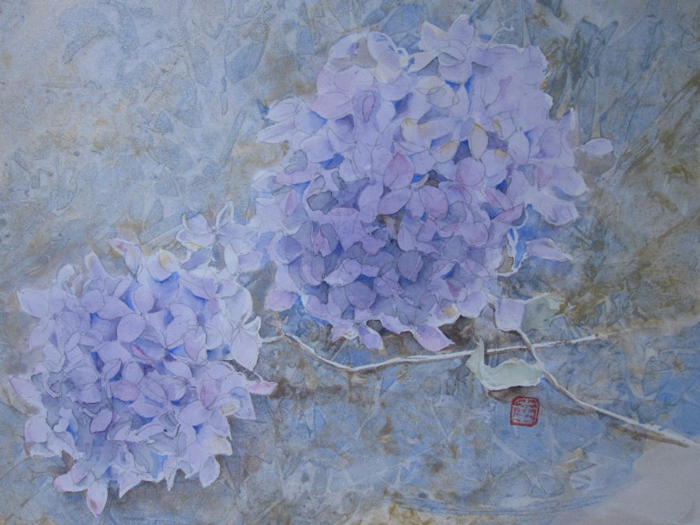 Barbara Grey & Sachiko Yoshida: "Mixing Oil & Water"
August 13-September 24, 2016
It is said that oil and water don't mix, but when Barbara Grey's boldly painted barns, brooks and mountains (image below) are intermingled with Sachiko Yoshida's (image above) elegant flowers and fruits, that doesn't apply: They complement each other.
Come and see the works of these two artists, on their very different, but harmonious journeys.