Located in historic Union Station at the foot of Main Street in downtown Brattleboro, the Brattleboro Museum & Art Center has cultivated a stellar reputation over the years for engaging and thoughtful exhibitions and quality programming. Six exhibitions open on Saturday, March 9, 2019 at 11AM.
Emanation: Sandy Sokoloff
March 9-June 16, 2019
Grand Isle artist Sandy Sokoloff says about his practice:
Although I am not an observant Jew, I have been strongly influenced by my cultural heritage. As a child I loved to draw, and early on my grandfather told me, "A Jew may never create an image of G-d." Still, the Kabbalah describes Sephirot as the manifestations of G-d that allow Him to appear in both the metaphysical and physical universes. Investigating the paradox of an image that both appears and does not appear gives impetus to my work.
From the 1970s through the early 1990s, my work was exhibited in New York and Boston. My last exhibition was in 1993, after which I withdrew from the art world to focus on the work itself.
(image: Yesod (Foundation) by Sandy Sokoloff (acrylic on canvas; 2017))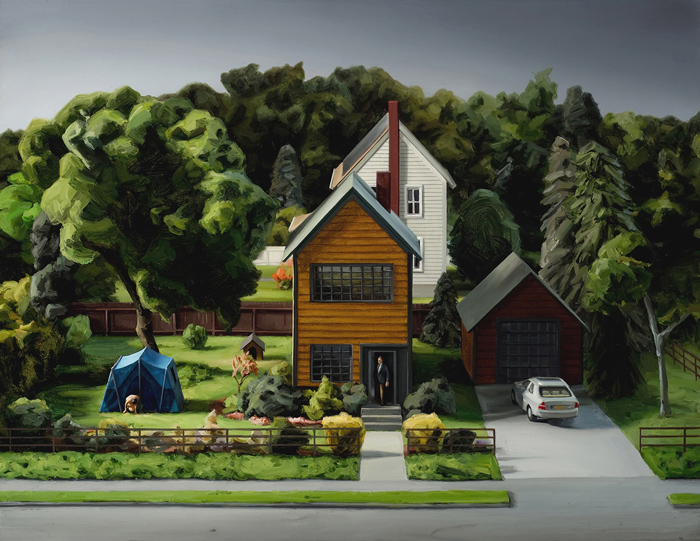 Amy Bennett: Nuclear Family
March 9-June 16, 2019
Amy Bennett says about this work:
"Nuclear Family" explores marriage, child rearing, and female identity. The series considers the deep commitments of marriage and raising children, along with the joys and entrapments of family life.
My paintings are representations of a miniaturized world, playing at reality. To guide each painting, I build a temporary 3D model that becomes a stage on which I develop narratives. The model offers me complete control over lighting, composition, and vantage point to achieve my desired dramatic effect.
Working from models helps me to process and extract bits of my experience in order to make what is in my imagination more concrete. Taking advantage of the clumsy inadequacies of miniatures—their slight shifts of scale and reduced detail help convey a sense of artifice and distance—I try to paint the scenes in a way that feels like a believable, but alternate, fabricated world.
(image: Doghouse by Amy Bennett (oil on panel; 2018). Courtesy of Miles McEnery Gallery, New York)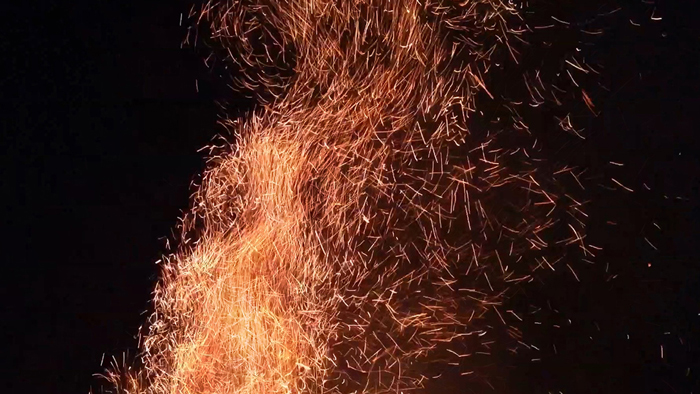 Joey Morgan: Catch + Release (2) Précis
March 9-June 16, 2019
Joey Morgan says about this work:
The title, Catch + Release, refers to the practice of catching a fish, pulling it from its mysterious depths, and then releasing it, allowing it to fall back home. This is thought to be a humane gesture. The phrase can pivot toward seductive play, or political threat, or to how one tries to hold on to a subconscious thought as the waking body forces one back into the quotidian world.
However abstract the conceptual scaffolding of my work may be, the first punch is emotional. Scale and points of attachment tether a piece to the analog world; but gaps are the essential components, giving the work breath. The piece may address shared experience in a particular voice; but it is the viewer who receives, interprets, and essentially alters what meaning there is.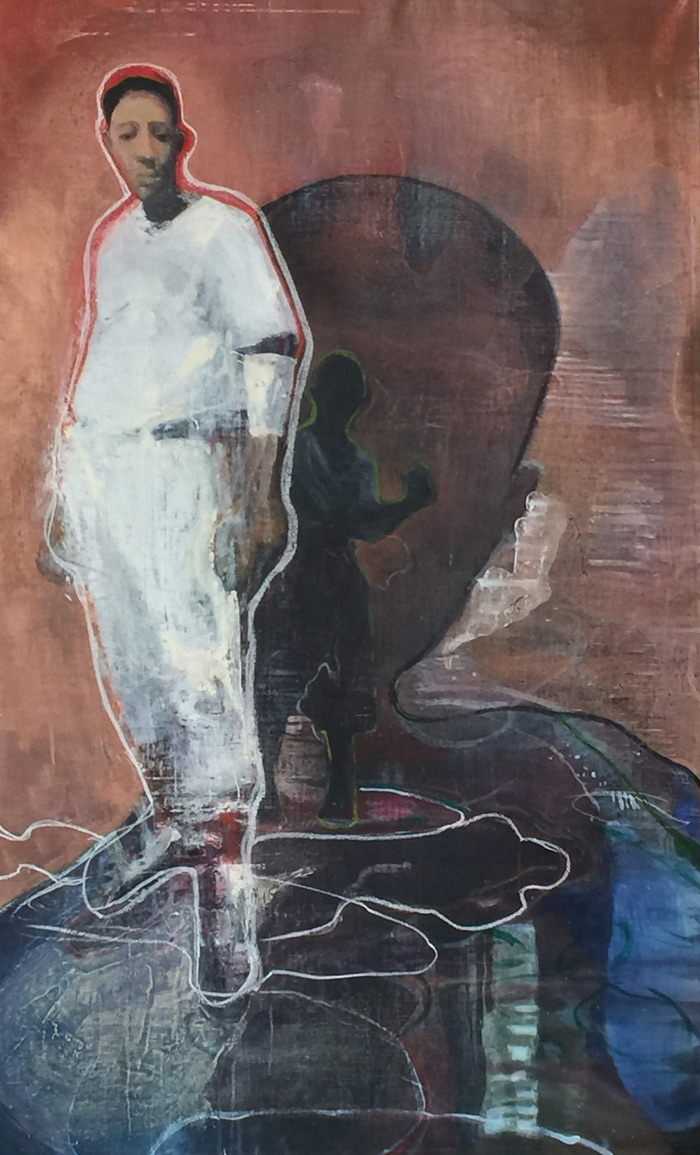 Joseph Diggs: Proud 2 Be American
March 9-June 16, 2019
Cape Cod artist Joseph Diggs says this work:
"Proud 2 Be American" was inspired by an article about my uncle Mitchell, a Tuskegee Airman. After the war he wanted to fly commercial jets but was denied the opportunity because of his race. I wanted to make a piece of artwork that would depict his accomplishments without negativity about his situation.
First, with a stencil of the American flag that included the words "God Bless America" and "Proud to Be an American", I spray painted four 12-inch-square wooden panels in black and white, varying the color combinations. Then, with additional colors, I combined the photograph of my uncle in his pilot gear with the stencil. Mitchell's self-possessed, almost regal, expression and bearing in the photo exude pride and dignity, showing a man far from negative.
I asked myself, What does it really mean to be proud, especially when you grow up in a racially suppressed and divided country? Pride comes from a place that reminds us of the positive changes we have made, through even our hardest times, as the people who helped build this great nation. In this fragile time, when it seems easy to take a side and speak negatively about what we feel is wrong with our country, it is more important than ever to appreciate the basic good in us all.
(image: Chalk Line Baller by Joseph Diggs (72″x45″; oil on canvas; 2016))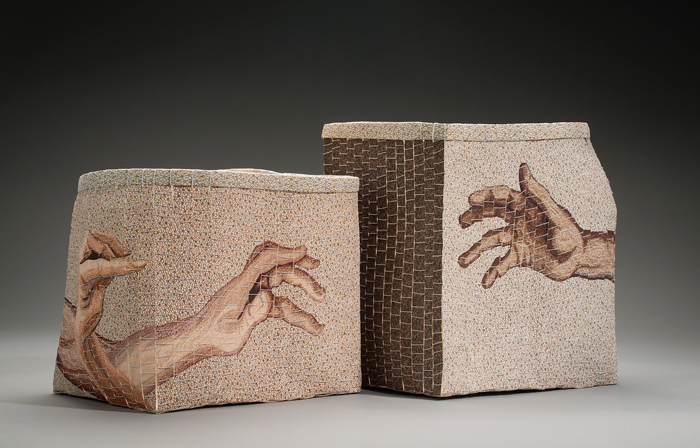 Jackie Abrams & Deidre Scherer: Connections
March 9-June 16, 2019
The artists say about the work and practice:
Age, wisdom, the accumulation of experience, and their imprints on the vessel we call the human body have interested each of us for decades. The fabric-and-thread portraits of elders and the sculptural baskets representing aspects of women's lives made it seem natural for us to collaborate on a series of three-dimensional objects that reflect the human form.
To create each object, we agree on the general shape and size of the vessel. An image of the original fabric portrait by Scherer is printed onto heavy cotton paper. The printed image is cut into strips and carefully woven back together by Abrams as a three-dimensional vessel. Sometimes other materials, such as copper wire or transparent plastic film, are incorporated into the weaving. The resulting vessels' strong forms and subtle textures reflect the character that the human body acquires with experience and time.
(image: Connecting #1 and #2 by Jackie Abrams and Deidre Scherer (print on cotton paper, wire, waxed linen thread; 2019))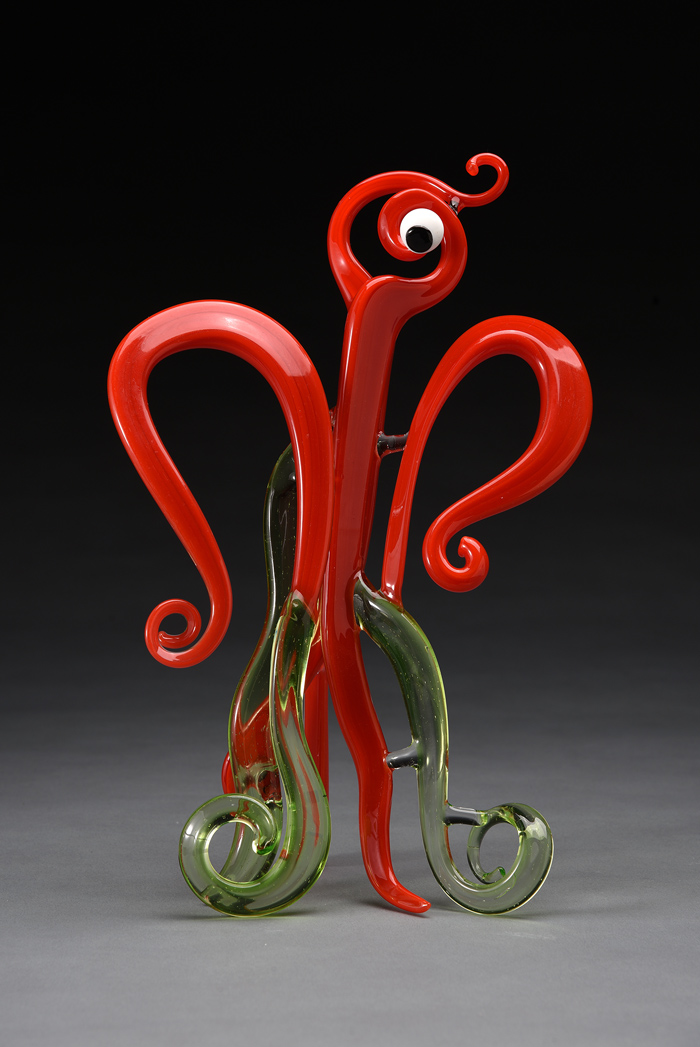 GLASSTASTIC 2019
March 9-June 16, 2019
The gallery walls are teeming with fantastic creatures that have come to vie for a spot in BMAC's biannual Glasstastic exhibit. In the fall of 2018, the museum asked kids in grades K-6 to submit drawings and descriptions of imaginary creatures. Over 1,200 submissions were received.
Twenty glass artists pored over the drawings, each with the difficult task of selecting just one image to transform into a glass sculpture.To bring the menagerie to life, the artists experimented with processes, materials, and a variety of glass-working techniques. In some cases, molten glass was gathered on the end of a hollow pipe, rolled, stretched, and given form with the artist's breath. For others, shapes were carefully cut from cold glass, then layered and placed in kilns, allowing the separate pieces to fuse together. For flame-worked sculptures, brightly colored rods of glass were heated with a torch and manipulated to create intricate details.
Take time to look through the drawings displayed on the walls and in the books. As you read each accompanying description, you might find that many of these quirky characters have surprising habits and abilities: some are powered by propellers, one sneezes cupcakes, many of them just make people happy.
(image: The Spaghetti Monster drawing by Bram Salus and glass sculpture by David Colton)
For previous exhibitions at the Brattleboro Museum & Art Center, click HERE.
---
INFORMATION
Brattleboro Museum and Art Center
10 Vernon Street
Brattleboro 05301
(802) 257-0124
Hours:
Daily (except Tuesday), 11AM-5PM
Open until 8:30PM for the First Friday Gallery Walk